Bryan Dickface, Valarie Knox, Ari O'Speedwagon, & Sweet Gravy Brown are saving the world as Black Cat Attack
Sometimes when your taking a stroll through new Artists and new music, it can sort of blend together. You long for something with a little different inspiration, a little aggression and intensity, maybe even a good drinking album, and then all of a sudden – BOOM. Black Cat Attack has kicked you in the jewels and they're smiling about it. 🙂
Hailing out of Ohsawa, Ontario. BCA, on their latest release Bright Side Of The Moon,  is taking Punk Music by the horns, and more specifically, Horror Punk. They're singing about aliens and zombies and death and all of sudden I want to blare this album, get drunk, and play Call Of Duty. It's refreshing, it rocks!
The Indie blender convinced them to put aside the responsibilities of saving the world for a few minutes to answer some questions. Stream (or buy) the album below and enjoy!
DALY:  You recently released Bright Side of The Moon, can you tell us a little about the concept behind the album?
BCA: We went into space to mine space resources to fund the record. An AI on the space shuttle we stole was able to turn the shuttle into a recording studio. Our mixes were then intercepted by an alien race from a planet called STRAF, and they felt our music was a weapon too powerful to exist in the universe. They then threatened to wipe Earth from existence unless we (BCA) were handed over to them. We saved Earth and everyone on it. You're welcome.
DALY: Writing a Horror Punk album would be interesting, I mean it's not like your just moaning about your feelings as some artists do (unless your feeling an alien invasion), Can you tell us a little bit about the writing and recording process? 
BCA:  We write together. It just works when everybody contributes. You get a little piece of everyone shining through in the music. Everything that is brought to the table has to be fun and we all have to love it, or we start over. 
DALY: What albums was everyone into while recording Bright Side Of The Moon?
BCA: Valerie Knox: NOFX- Self Entitled, Koffin Kats – Way of the Road
            Bryan Dickface: Zeke – Death Alley, Turbonegro – Scandinavian Leather, Motorhead – Ace of Spades
           Ari: Turbonegro – Scandinavian Leather, Red Fang – Murder the Mountains, NOFX entire discography
           Dave: Iron Maiden – Iron Maiden, Lagwagon – Hoss
DALY: The cover obviously bears some reference to Dark Side of The Moon, but it now includes pizza. Everyone knows pizza makes everything better, so  If Pink Floyd were eating pizza what do you think they would put on it? 
BCA:  So we just googled this "Pink Floyd" and "Dark Side of the Moon" and OH MY GOD WHAT ARE THE ODDS?!?!?
DALY:  What aspects did Sweet Gravy Brown joining the band bring?
BCA: We only hired him because he's got his own recording studio, and his curry is out of this world.
DALY:  In "Phasers set to thrill" you talk about aliens coming down and wreaking havoc, what is the first thing you would do in an Alien invasion?
BCA: Dave: I am an avid Mass Effect player. I truly feel I could hold my own.
           Bryan: I'd go to The Windchester, have a pint, and wait for it all to blow over.      
           Ari: I'd barricade myself in Costco.      
           Val: I'd get my birds and my dog packed into my car, and with whatever weapons I could find drive north until I run out of gas and live off the land…..for a few days. I wouldn't last long on my own in the wilderness and my dog is a coward. 
DALY: Any upcoming shows we should know about?
BCA: We have an American summer tour coming up in July and August. We will be touring up and down the east coast with a stop at America's premier horror rock event, Ghoul's Night Out in Fayetteville, NC on August 9th. For tour information, please visit www.facebook.com/BCA666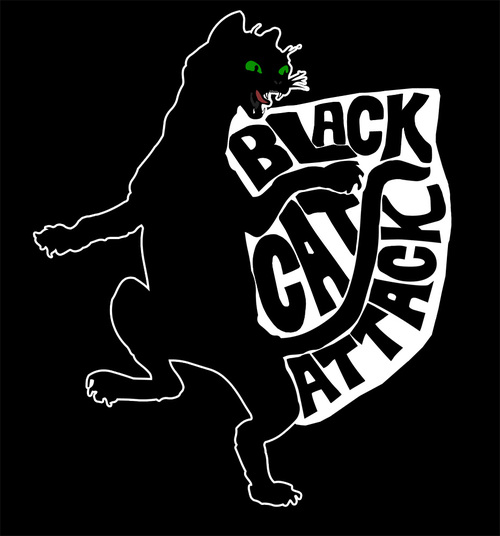 Ryan Daly would be fucked if there was an alien invasion, follow him on twitter @DALYRY